Detroit International Vehicle Company
I bought a project vehicle yesterday. It's a 1952 Model 12 DIVCO truck. Ninety-one were built, mine was the the seventy first. Most of these were built to serve as milk delivery trucks. They used hand throttles, hand brakes and were designed with a seat that could be pushed out of the way so that they could be driven standing up. My truck is said to be the only one in this model to be built from the factory to be an ice cream truck. It has specially made coolers accessible from the cab portion. I accept that story with a grain of salt, but I do know that the unique layout was at least made very early on, so it's possibly true.
Anyway. I will be installing a more modern engine and drive train, power steering, new front and rear ends and so on. The outside will be given a retro look with colored trim using colors available from that era. The originals topped out at about 40 miles per hour. I need to drive Modern freeways, using normal foot pedals.
I don't have all the details worked out yet. I'm hoping to have this built by about the first of next year, but really I expect for it to take a full year to complete. I got an outstanding deal on it with lots of extra parts.
This will be used as a promotional vehicle for my brokerage. More on that later.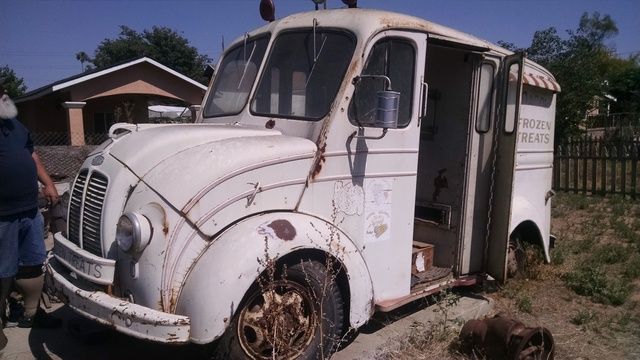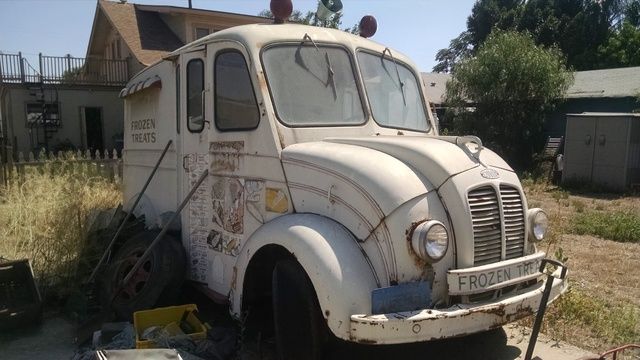 This is were the ice cream came from. This is unique because this truck uses a refrigerator system as opposed to the more common ice. This also means that there is no serious rust underneath that is common on these trucks that had melting ice on board.
I have been in touch with various collectors and have turned down some other trucks before this one came along. When I found this one within an hour from home, they were absolutely insistent that I buy this one. So I listened. The doors shut, it's in relatively good shape for the age, the bad rust is relegated to areas that are easily replaced.
The fellow I bought it from is worth a thread in itself and I spent most of the day going through his place with him. I will be buying more stuff from him like hand tools, Americana and so on. Let's just say that the TV show American Pickers are begging to come to his place and for good reason. But the man's health is bad and he doesn't want to deal with them. He has been featured in numerous books and won a number of awards for his various builds. This man was one of the most interesting souls I've ever met and he's faithful Christian and it showed with all the biblical art he made.