I love fishtail stems.
Old Dunhill made the best ones that I've seen, in my opinon. This is off of a patent era Dunhill. It had the best stem and button work that I've ever put in my mouth. Notice how, in addition to gracefully flaring out at the sides, it has a little bit of concavity at the button end. I should mention that this stem was thin too.
I prefer smaller pipes and I think fishtail stems provide some visual and practical balance to a small pipe. In some cases, they are almost necessary to give your teeth enough real estate to clench. I like how pronounced they look on a small pipe with a thin shank. Dunhill is the only maker that I've seen that also has that little bit of concavity at the button end.
The stem on this Ashton of mine is almost a fishtail. The flare is is more subtle and straight line. It's hard to tell from the photo.
Anyone else out there really like a pronounced fishtail?
I know Pete produces fishtails and I've seen an artisan maker, Scottie, that makes a lot of nice fishtails.
Here's one of Scottie's: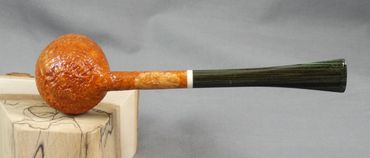 Any others? Any of you CPS pipe makers ever try making a fishtail stem?