I think it's fair to say that the most celebrated, lauded, respected, emulatable preacher among Baptists is Charles Spurgeon. He didn't get the nickname "Prince of Preachers" for nothin. But preaching isn't the only thing worthy of emulation. Spurgeon was a lover and partaker of cigars.
Baptists don't get into the whole patron saint thing, but if it was a thing, Charles Spurgeon would be the Baptist patron saint of cigars.
And if you're Baptist, like me, and you smoke cigars, like me, you'll quickly learn that sooner rather than later your fellow Baptists will start shooting their arrows in your direction. Ah, but that's when we pull out our great shield, the one with Spurgeon's bearded face emblazoned upon it, wherein he's wreathed in a bluish smoke of a glorious Havana puro. We can then say with confidence, "If it's good enough for Spurgeon it's good enough for me!" and watch them squirm, trying to reconcile Spurgeon's preaching with his puffing.
There are many anecdotes about Spurgeon's smoking. My favorite is when he was once rebuked for smoking by the church lady for smoking whereupon Spurgeon assured her he smoked only in moderation. "Well," snided she, "how would you know if you've smoked too much?" To this Spurgeon replied, "I'll know if I have smoked too much when I smoke two cigars at the same time."
It seems most people who get cranky about Spurgeon's cigars tend to sort of tuck that part of his life away upstairs in a box in the closet with a "Do Not Open" label on it, but when they do open it up, or have it foisted upon them, the tale goes that Spurgeon, in his latter days suffering from gout and depression, eventually saw the light and quit smoking altogether. Some say he finally 'repented' of this habitual sin.
Ah, but seems the old church ladies fables were wrong.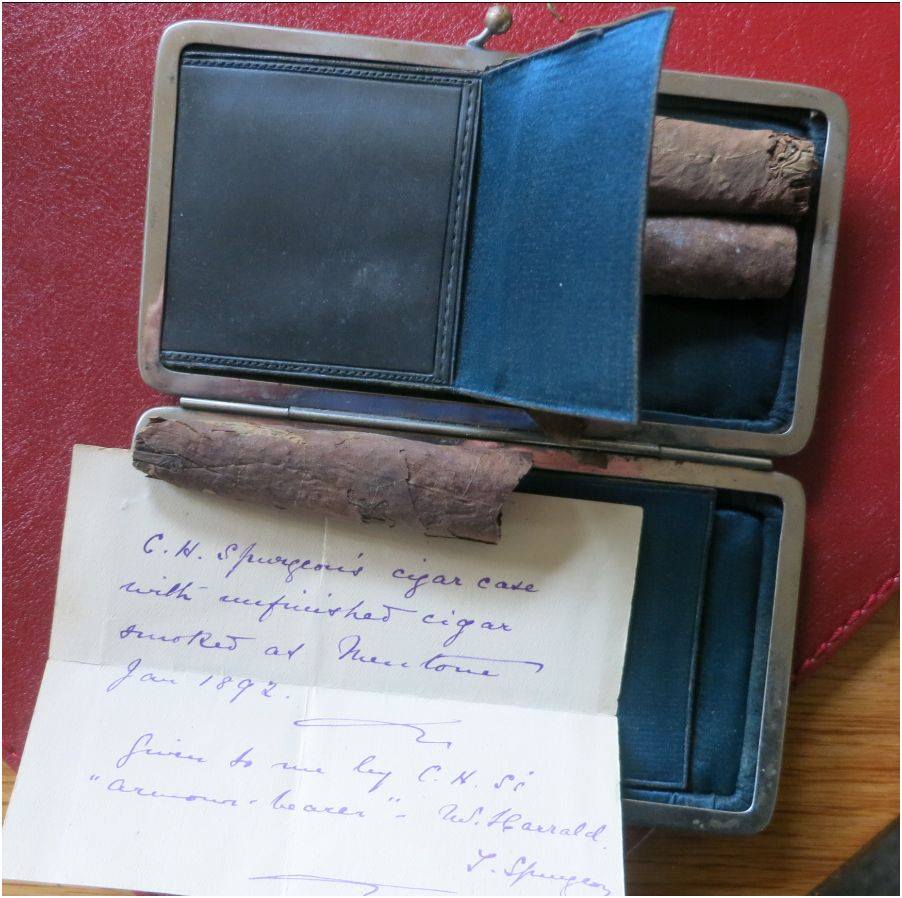 The picture above is Spurgeon's cigar case. The picture was taken by Spurgeon's great grandson David, who provided it (it seems) to
The Spurgeon Archive website
, where they claim that this puts to rest the idea that Spurgeon ever gave up smoking. In fact, the half smoked cigar above is likely the last cigar he smoked before his death.
They also have a few close up pictures of the cigar bands, revealing the final brand (not-existent today) he was smoking: