I carry a satchel because I like to carry many books with me, but I didn't want a girly purse or anything resembling a metro manpurse. I wanted something manly and Jack Bauer answereth
Behold! The Jack Bauer bag!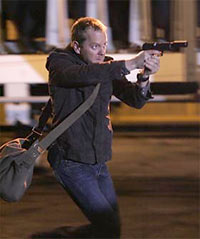 Now I can carry my books
and
fight terrorists!
My wife bought it for me a while back and I love it.
One day I wouldn't mind nabbing the ol' Indiana Jones satchel as well... if anyone knows where I could find one at a decent price I'd be one happy fella